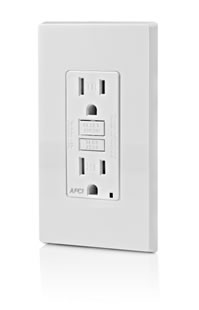 Leviton responds to demand for Outlet Branch Circuit (OBC) AFCI receptacle as an alternative to Circuit Breaker based AFCI devices.

Requirements for residential arc-fault protection were first mandated in the 1999 Code cycle and have been expanded in every Code cycle since.  Until now, electrical professionals have had to rely upon circuit breaker based devices to address these requirements.  While AFCI breakers serve their purpose, there are many situations where a receptacle based AFCI device is not only preferable, it is the only viable solution to providing arc-fault protection at a reasonable cost.  This article explores how these exciting new devices work, their applications, and where they are allowed by Code.

Article 210.12 of the National Electrical Code® (NEC®) mandates AFCI protection in residential family rooms, dining rooms, living rooms, parlors, libraries, dens, bedrooms, sunrooms, recreation rooms, closets, hallways or similar rooms.

What is an Arc Fault? Unlike GFCI's that provide personal protection to people by detecting current leakage and quickly disconnecting power, AFCI's protect physical structures from fires and related hazards by detecting arcing and quickly cutting off power. 
There are two general types of arc-faults that AFCI devices can protect against. 
Series arc (or in-line fault) where a break or gap in a single conductor causes electricity to jump across the gap thus creating an arc.
Parallel arcs also occur due to a break or gap, but electricity jumps from line to neutral, or line to ground.
Advantages of AFCI Receptacles. Those of us that are old enough to remember the introduction of GFCI receptacles can recall how they offered many solutions and were quickly embraced by contractors and homeowners alike.  Today almost everyone is familiar with and enjoy the safety benefits of GFCI receptacles.  AFCI receptacles can offer many of the same advantages:
AFCI receptacles are compatible with all homes and wiring systems.  This is not the case with AFCI breakers.
Lower cost for homeowners and electricians when adding or extending a circuit.  This is particularly true in older homes with legacy circuit breaker panels.  Since today's AFCI breakers don't fit into these breaker panels, electricians either have to update the entire panel or they can simply utilize an AFCI receptacle (use of AFCI receptacle subject to NEC requirements as detailed later in this article).
Lower cost and simple installation of AFCI receptacle compared to AFCI breaker leads to broader adoption which results in less fires and overall increased safety.
Since AFCI receptacle look and functionality is similar to traditional GFCI receptacles with localized TEST and RESET buttons.  Use and operation is intuitive for homeowners.
Level of Protection:        Leviton's OBC AFCI receptacle is a UL listed device which addresses the dangers associated with both types of hazardous arcing – parallel and series arcing.  Similar to GFCI's, AFCI receptacles provide feed-through protection and are able to detect downstream arc-faults, both parallel and series, as well as upstream series arc faults.   Certain standard magnetic circuit breakers can be relied upon for upstream parallel fault protection thereby effectively fulfilling entire branch circuit protection as long as the AFCI receptacle is installed within 50 feet of the breaker when using standard 12 gauge wire and within 70 feet for 14 gauge wire.
The National Electrical Code  – 2011 Code Cycle
Allowances for the use of AFCI receptacles in the 2011 NEC are limited. Article 210.12 allows OBC AFCI receptacles at the first outlet if the circuit conductors are installed in RMC, IMC, EMT or Type MC or steel armored Type AC cable and the AFCI device is contained in a metal outlet box.
In addition, Article 210.8(B) addresses where branch-circuit wiring is modified, replaced, or extended, the branch circuit must be protected by:
(1) A listed combination AFCI located at the origin of the branch circuit; or
(2) A listed outlet branch circuit AFCI located at the first receptacle outlet of the existing branch circuit."

Effective January 1, 2014, Article 406.4 states that where a receptacle outlet is supplied by a branch circuit that requires arc-fault circuit interrupter protection [210.12(A)], a replacement receptacle at this outlet must be one of the following:
(1) A listed outlet branch circuit type arc-fault circuit interrupter receptacle
(2) A receptacle protected by a listed outlet branch circuit type arc-fault circuit interrupter type receptacle
(3) A receptacle protected by a listed combination type arc-fault circuit interrupter type circuit breaker."
The National Electrical Code -  2014 Code Cycle: 
Although the 2014 NEC has not yet been released, early indications are that allowances for AFCI devices will be expanded to allow AFCI receptacles installed with standard Romex® wire to protect the entire branch circuit in any of the areas specified in 210.12(A),  with the following caveats:
AFCI receptacle must be installed as the first outlet on the branch circuit
That first AFCI receptacle must be within 70 feet of the overcurrent protection device for 12 gauge conductors and within 50 feet for 14 gauge conductors.
AFCI receptacles must be UL listed for compatibility with specific magnetic circuit breakers that are commonly found on the market today or used downstream from a new type of breaker called an SAP (Supplemental Arc Protection) breaker. 
Complying with these requirements effectively protects the entire branch circuit from Series and Parallel faults and satisfies NEC requirements.  Therefore the limitations placed on AFCI receptacles in the 2011 Code will largely be overcome once the 2014 Code takes effect.

Leviton SmartlockPro® OBC AFCI Receptacle Meets Full Compliance.  Leviton enjoys the benefit of having a UL Certified Test Lab within its Melville NY Corporate headquarters which happens to be located directly across the street from UL's Melville Office.  These logistic advantages allow timely and open communication when bringing products to market. 

Leviton's OBC AFCI receptacle is already UL certified and certifications toward compliance with all mainstream breakers is already underway to meet the 2014 NEC mandates.

Leviton SmartlockPro OBC AFCI Receptacle First to the Market: Ever since AFCI requirements were first included in the NEC, many manufacturers have claimed development of an AFCI receptacle.  However these devices have never hit the distributor counter.  Until now that is.  Leviton's SmartlockPro AFCI is the result of many years and Engineering man-hours.  Once developed, much more time was devoted to testing in varied environments and conditions.  Leviton's Vice President of Codes, Standards and Compliance Steve Campolo, comments: "The SmartlockPro AFCI receptacle project was challenging on many levels, but the result was equally rewarding.   We believe we perfected the technology and offer an extremely reliable and highly functional device."  Leviton's SmartlockPro AFCI receptacle is the only AFCI receptacle on the market today!

SmartlockPro AFCI Features:
Advanced electronic design provides superior resistance to electrical surges and over-voltages.
Tamper-Resistant
Back wire clamps provide visual indication of proper clamping
Available in 15 and 20 Amp configurations
Matches other Decora® devices in home.
Available in today's popular colors
Backed by Leviton's Limited 2-Year Warranty.
What This All Means to Electrical Professionals:
Another choice when it comes to wiring devices
Increased safety, security and convenience for American homeowners
Increased competition within the industry and economic benefits for installers
Lower cost in most applications when compared to AFCI breakers
Where to buy:  Leviton OBC AFCI Receptacles are already available at select Leviton distributor locations.  As production catches up with demand, you will see these great devices at Leviton distributors and Home Centers near you!
2013 © Leviton Manufacturing, Co., Inc.  All Rights Reserved.