Bob's blog
Subscribe to posts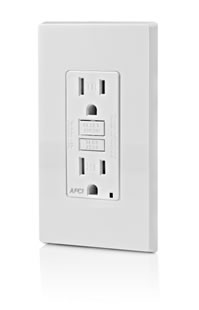 Leviton responds to demand for Outlet Branch Circuit (OBC) AFCI receptacle as an alternative to Circuit Breaker based AFCI devices.

Requirements for residential arc-fault protection were first mandated in the 1999 Code cycle and have been expanded in every Code cycle since.  Until now, electrical professionals have had to rely upon circuit breaker based devices to address these requirements.  While AFCI breakers serve their purpose, there are many situations where a receptacle based AFCI device is not only preferable, it is the only viable solution to providing arc-fault protection at a reasonable cost.  This article explores how these exciting new devices work, their applications, and where they are allowed by Code.

Article 210.12 of the National Electrical Code® (NEC®) mandates AFCI protection in residential family rooms, dining rooms, living rooms, parlors, libraries, dens, bedrooms, sunrooms, recreation rooms, closets, hallways or similar rooms.

What is an Arc Fault? Unlike GFCI's that provide personal protection to people by detecting current leakage and quickly disconnecting power, AFCI's protect physical structures from fires and related hazards by detecting arcing and quickly cutting off power. 
There are two general types of arc-faults that AFCI devices can protect against. 
Series arc (or in-line fault) where a break or gap in a single conductor causes electricity to jump across the gap thus creating an arc.
Parallel arcs also occur due to a break or gap, but electricity jumps from line to neutral, or line to ground.
Advantages of AFCI Receptacles. Those of us that are old enough to remember the introduction of GFCI receptacles can recall how they offered many solutions and were quickly embraced by contractors and homeowners alike.  Today almost everyone is familiar with and enjoy the safety benefits of GFCI receptacles.  AFCI receptacles can offer many of the same advantages:
AFCI receptacles are compatible with all homes and wiring systems.  This is not the case with AFCI breakers.
Lower cost for homeowners and electricians when adding or extending a circuit.  This is particularly true in older homes with legacy circuit breaker panels.  Since today's AFCI breakers don't fit into these breaker panels, electricians either have to update the entire panel or they can simply utilize an AFCI receptacle (use of AFCI receptacle subject to NEC requirements as detailed later in this article).
Lower cost and simple installation of AFCI receptacle compared to AFCI breaker leads to broader adoption which results in less fires and overall increased safety.
Since AFCI receptacle look and functionality is similar to traditional GFCI receptacles with localized TEST and RESET buttons.  Use and operation is intuitive for homeowners.
Level of Protection:        Leviton's OBC AFCI receptacle is a UL listed device which addresses the dangers associated with both types of hazardous arcing – parallel and series arcing.  Similar to GFCI's, AFCI receptacles provide feed-through protection and are able to detect downstream arc-faults, both parallel and series, as well as upstream series arc faults.   Certain standard magnetic circuit breakers can be relied upon for upstream parallel fault protection thereby effectively fulfilling entire branch circuit protection as long as the AFCI receptacle is installed within 50 feet of the breaker when using standard 12 gauge wire and within 70 feet for 14 gauge wire.
The National Electrical Code  – 2011 Code Cycle
Allowances for the use of AFCI receptacles in the 2011 NEC are limited. Article 210.12 allows OBC AFCI receptacles at the first outlet if the circuit conductors are installed in RMC, IMC, EMT or Type MC or steel armored Type AC cable and the AFCI device is contained in a metal outlet box.
In addition, Article 210.8(B) addresses where branch-circuit wiring is modified, replaced, or extended, the branch circuit must be protected by:
(1) A listed combination AFCI located at the origin of the branch circuit; or
(2) A listed outlet branch circuit AFCI located at the first receptacle outlet of the existing branch circuit."

Effective January 1, 2014, Article 406.4 states that where a receptacle outlet is supplied by a branch circuit that requires arc-fault circuit interrupter protection [210.12(A)], a replacement receptacle at this outlet must be one of the following:
(1) A listed outlet branch circuit type arc-fault circuit interrupter receptacle
(2) A receptacle protected by a listed outlet branch circuit type arc-fault circuit interrupter type receptacle
(3) A receptacle protected by a listed combination type arc-fault circuit interrupter type circuit breaker."
The National Electrical Code -  2014 Code Cycle: 
Although the 2014 NEC has not yet been released, early indications are that allowances for AFCI devices will be expanded to allow AFCI receptacles installed with standard Romex® wire to protect the entire branch circuit in any of the areas specified in 210.12(A),  with the following caveats:
AFCI receptacle must be installed as the first outlet on the branch circuit
That first AFCI receptacle must be within 70 feet of the overcurrent protection device for 12 gauge conductors and within 50 feet for 14 gauge conductors.
AFCI receptacles must be UL listed for compatibility with specific magnetic circuit breakers that are commonly found on the market today or used downstream from a new type of breaker called an SAP (Supplemental Arc Protection) breaker. 
Complying with these requirements effectively protects the entire branch circuit from Series and Parallel faults and satisfies NEC requirements.  Therefore the limitations placed on AFCI receptacles in the 2011 Code will largely be overcome once the 2014 Code takes effect.

Leviton SmartlockPro® OBC AFCI Receptacle Meets Full Compliance.  Leviton enjoys the benefit of having a UL Certified Test Lab within its Melville NY Corporate headquarters which happens to be located directly across the street from UL's Melville Office.  These logistic advantages allow timely and open communication when bringing products to market. 

Leviton's OBC AFCI receptacle is already UL certified and certifications toward compliance with all mainstream breakers is already underway to meet the 2014 NEC mandates.

Leviton SmartlockPro OBC AFCI Receptacle First to the Market: Ever since AFCI requirements were first included in the NEC, many manufacturers have claimed development of an AFCI receptacle.  However these devices have never hit the distributor counter.  Until now that is.  Leviton's SmartlockPro AFCI is the result of many years and Engineering man-hours.  Once developed, much more time was devoted to testing in varied environments and conditions.  Leviton's Vice President of Codes, Standards and Compliance Steve Campolo, comments: "The SmartlockPro AFCI receptacle project was challenging on many levels, but the result was equally rewarding.   We believe we perfected the technology and offer an extremely reliable and highly functional device."  Leviton's SmartlockPro AFCI receptacle is the only AFCI receptacle on the market today!

SmartlockPro AFCI Features:
Advanced electronic design provides superior resistance to electrical surges and over-voltages.
Tamper-Resistant
Back wire clamps provide visual indication of proper clamping
Available in 15 and 20 Amp configurations
Matches other Decora® devices in home.
Available in today's popular colors
Backed by Leviton's Limited 2-Year Warranty.
What This All Means to Electrical Professionals:
Another choice when it comes to wiring devices
Increased safety, security and convenience for American homeowners
Increased competition within the industry and economic benefits for installers
Lower cost in most applications when compared to AFCI breakers
Where to buy:  Leviton OBC AFCI Receptacles are already available at select Leviton distributor locations.  As production catches up with demand, you will see these great devices at Leviton distributors and Home Centers near you!
2013 © Leviton Manufacturing, Co., Inc.  All Rights Reserved.

EDITOR'S NOTE: This article was submitted by Rick Berry, the Electrical Safety Officer in the Greater Victoria area, in Vancouver, Canada.
Part of our inspection duties includes assisting the fire departments in determining fire causation when the suspected cause might be electrical.
For some background, our area at times here is subject to wind storms coming in off of the Pacific Ocean, even being called 'The Pineapple Express' when a particularly heavy wet (rainy) storm comes up from Hawaii.
This particular storm was of a way longer duration and of stronger winds than normal and also followed several weeks of heavy rain that soaked the ground. The strong winds combined with the soaked ground caused a huge number of trees to fall throughout the area, taking out the overhead power lines with them.
The local Utility was swamped with trouble calls and 'seconded' all the private utility line contractors to assist them, but it still took time (some were out as long as 6 days!). Unfortunately, some people decided that they couldn't wait for the power to come back on and they took matters into their own hand, so to speak.
This place is in a rural area and was already equipped with a stand-by generator, wired correctly with an approved transfer switch, however it was sized for the minimum of loads (fridge, well, septic, freezer) This owner was having his staff Christmas party at his house and needed "...a bit more power..." for the big screen TV, karaoke machine, sound system and flashing lights!!!
Being that he was somewhat of a 'handy guy', he went to one of the local tool rental companies and rented out their last generators. Getting it home, he now had to 'hook it up' to get the party started.
He looked at the generator output receptacle and realized that he had a cable in his shop with the same end on it! HEY, not only did he have a cord with the right end, but his electric arc welder outlet in the garage of the house matched it too!
His lucky day? NOT !!!
He proceeded to take the cord off of his welder and installed the other receptacle on the end, yes... they are both MALE receptacles! He plugged one end into the generator, the other into the welding outlet on the garage wall, and being a 'smart guy' went to the main panel and turned off any breaker feeding devices and equipment he didn't need... except, he left the main turned on...
The generator seemed to give him a 'few problems' while it was running, but he made it work (all assisted by his other neighbour turning THEIR main breaker off when their lights started 'flickering' (back fed from the neighbours generator?)
When the power was restored to the area, the neighbour noticed that the streetyard lighting from his neighbours shop was on, but he could still hear the generators running... for a few minutes.
As he was getting ready to walk over and let his neighbour know that he could turn his generators off and run his party at 'full power', he said there was a loud 'WHOMPFFFF' from across the field and then the sky lit up !
Thinking at first that there was fireworks (there was... but not 'that' kind) he went back in his house to wake up his kids... by the time he came out, the 'rented' portable generator, the side of his neighbours house, the neighbours motor home/race car hauler, boat and his wife's SUV were burning.
As near as we could figure from piecing together the story (and the molten pieces of equipment) when the electrical service was re-energized by the utility it took them three tries to get their fuse and switch to hold in; but by that time the generator had melted/shorted 'shooting' flames out from the alternator windings!
The flames caught the rubber tires on fire which then engulfed the generator with the top mounted gas tank (we think that was the first 'WHOMPFFFF') The flaming gas then ran down the slope of the driveway to the race car hauler... by then, it was 'All over but the crying.'
We (the local fire departments and our inspection office) use this story at any chance we get to prove that here in Canada, insurance companies will even cover stupid!
Thank you to the experts at Electricgeneratorsdirect.com!

Research shows that energy efficient bulbs safest when placed behind additional glass cover
STONY BROOK, NY, July 18, 2012 – Inspired by a European study, a team of Stony Brook University researchers looked into the potential impact of healthy human skin tissue (in vitro) being exposed to ultraviolet rays emitted from compact fluorescent light (CFL) bulbs. The results, "The Effects of UV Emission from CFL Exposure on Human Dermal Fibroblasts and Keratinocytes in Vitro," were published in the June issue of the journal of Photochemistry and Photobiology.
Stony Brook researchers collected CFL bulbs purchased from different locations across Suffolk and Nassau counties, and then measured the amount of UV emissions and the integrity of each bulb's phosphor coatings. Results revealed significant levels of UVC and UVA, which appeared to originate from cracks in the phosphor coatings, present in all CFL bulbs studied.
At Stony Brook's Advanced Energy Research and Technology Center (AERTC), the team took the same bulbs and studied the effects of exposure on healthy human skin tissue cells, including: fibroblasts, a type of cell found in connective tissue that produces collagen; and keratinocytes, an epidermal cell that produces keratin, the key structural material in the outer layer of human skin. Tests were repeated with incandescent light bulbs of the same intensity and with the introduction of Titanium Dioxide (TiO2) nanoparticles, which are found in personal care products normally used for UV absorption.
"Our study revealed that the response of healthy skin cells to UV emitted from CFL bulbs is consistent with damage from ultraviolet radiation," said Professor Rafailovich. "Skin cell damage was further enhanced when low dosages of TiO2 nanoparticles were introduced to the skin cells prior to exposure." Rafailovich added that incandescent light of the same intensity had no effect on healthy skin cells, with or without the presence of TiO2.
This looks like an RC helicopter landed upside down on your ceiling but it's actually Raffaele Iannello's new

ceiling fan

. It's a 1:6 scale model of the Hughes/MD 500 mounted on what appears to be a helipad. Do the narrow blades cool well? Yes, they are extremely cool. (Link | Via)
An unusual collector's item featuring gaming's most iconic

plumber

shows up on the world's biggest online flea market, eBay.

All of the four ceiling fan blades separately

feature

a character from Super Mario Bros.: there's Mario – punching you in the face, his brother Luigi – making a face that suggests he need to visit the little

plumbers

room, Princess Toadstool – stuck in a small tower, and King Koopa – who appears to have stayed a little too long out in the sun. The total number of these Super Mario Bros. ceiling fans ever produced is fuzzy at best, although one thing is certain, this collectible is an extremely rare item (kind of like trying to find Kuribo's shoe in Super Mario Bros. 3) and when they do pop up on the eBay market, they can sell for wild prices – upwards of $25,000. Absurd. (Link)
The Cumulos Ceiling Fan is one of the most unique ceiling fans I've ever seen. It eliminates the traditional exposed blades of a typical ceiling fan and puts the fan itself behind a grill within a circle of lighting. The whole thing ends up looking more like a very modern chandelier than a ceiling fan. It sort of reminds me of an alien spacecraft landing. The 30″ diameter fan fixture comes with six 25-watt bulbs for lighting, three fan speeds and a wireless remote. Of course this

design

eliminates the whole "throw a sock in the ceiling fan and watch it go flying" game but sometimes style triumphs over fun. (Link | Via)
A design student from the

University

of blade fans. This Ribbon Ceiling Fan recently won an Australian Design Award in the student design category. Benjamin McMahon has a patent pending for his ribbon-inspired design/invention that not only looks like a fast, free-flowing ribbon, spinning in

suspension

, when it's turned on, but this fan is actually more efficient than other ceiling fans, perhaps even limiting the need for air

conditioning

in some environments.

Making use of the geometry of a helical loop, the unique blades are able to focus air in a wider circumference from the fan than current fan blades. Another positive feature of the Ribbon is that it uses standard

fixtures

for installation, making it much easier to replace a standard fan. (Link | Via)
It takes a special kind of

designer

to look at an item and combine it, in his mind, with a completely unrelated item. Such was the case with Philippe Malouin. According to his website, the idea for his Dervish Lamp came to him one day while he was repaying a favor from a friend.

"While borrowing a friend's

car

for the day, I decided to have it washed to show my gratitude. I pulled into an automated carwash, and while inside, I couldn't help but notice how the carwash brushes completely alter their shape from flimsy drooping hair covered rods to massive powerful beams. Could this quality of transformation be applied to

the home

sector? Where would a transforming apparatus find use in the home?"

The resulting lamp/ceiling fan does indeed invoke thoughts of car wash brushes when in motion. And the spectacle of this device in your living room would undoubtedly be more interesting than the dull wood-grain blades characteristic of most others. One of the best parts of the Dervish lamp is the metamorphosis it undergoes when put into motion. When the flexible strands are standing still, the lamp has a soft and sophisticated look. But set the device spinning and the strands stand out in an exuberant display. The energy and whimsy are most definitely akin to spinning dancers. (Link)
This is the Traditional Indoor fan from the Traditional Gyro ceiling fan collection by Minka Aire. The Minka Aire Gryo ceiling fan is a truly unique design offering an unsurpassed level of comfort. Traditional Gyro's ability to precisely control the direction and intensity of the cooling breeze efficiently circulates air in any size or shape room. (Link)
Apparently these uniquely shaped batman blades move air just as well as a traditional blade design and if you're not a fan of bats the website also suggests they could be passed off as 'Dragon' wings. The Bat/Dragon Wing Fan Blades are available from Etsy in sets of 4, 5 or 6 starting at $40. (Link | Via)
The Brisa 2000 ceiling fan is pretty funny looking. That's because the fan actually orbits around that big sphere in the center, allowing for all kinds of air mobility! You can rotate the fan itself from straight down to straight up, depending on the season, so it's also quite functional. It's also rather expensive -- $1000 a pop. But you can get them in all kinds of different finishes and the company accepts custom orders as well. I actually made one myself, and it turned out surprisingly alright. It makes getting in and out of the bunk-bed a little dangerous, but if you do get hit it isn't that painful. Would you believe.....? (Link | Via)
Windmill Ceiling Fan - great idea for farm/ranch office. (Link)
Designed by Alexander Ignon, the Loft Wing Ceiling Fan has brought us back to those old days when we were using palm-leaf fans to cool ourselves. The dramatic ceiling fan is aimed at both small living rooms and other large public buildings where energy-saving and artistic products are rather welcomed. The high quality German geared motor not only makes the fan work quietly, but needs only 15 watts of electricity to cool the room. To top off the great design, Loft Wing Ceiling Fan's dimension and color can be made on request. (Link | Via)
This is an "encouragement" I read on a trade website- Thank you Mike Holt

 

I hired a carpenter to help me restore an old farmhouse, and after he had just finished a rough first day on the job (flat tire made him lose an hour of work, and his electric saw quit), his ancient pickup truck refused to start.


While I drove him home, he sat in stony silence. On arriving at his home, he invited me in to meet his family. As we walked toward the front door, he paused briefly at a small tree, touching tips of the branches with both hands. When he opened the door, he underwent an amazing transformation.  His frustrated face changed to smiles and he hugged his two small children and gave his wife a gentil kiss.


Afterward a short visit, he walked me to my car, we passed the tree and my curiosity got the better of me. I asked him about what I had seen him do earlier with the tree. Oh, that's my "trouble tree," he replied. "I know I can't help having troubles on the job, but one thing's for sure, troubles don't belong in the house with my wife and the children. So I just hang them up on the tree every night when I come home. Then in the morning I pick them up again. Funny thing is", he smiled, "when I come out in the morning to pick 'em up, there aren't nearly as many as I remember hanging up the night before."
Here is your "new" new light bulb. It will last between 20,000- 50,000 hours. It uses a fraction of the power of a 100 watt incandescent light bulb. You do not need a Haz-Mat team to clean it up if it breaks, unlike the squiggly CFL bulbs. It is dimmable, with regular dimming switches.
The process in which it is made requires the use of some nasty chemicals and minerals, which will poison the environment- however, most of these chemicals are already being used in the production of integrated circuit chips. 
They cost, at least $50 each. Go ahead- count the number of lightbulbs in your house and multiply by 50 - I'll wait. You are being forced to buy this bulb (or those CFL bulbs, which I wouldn't dignify due to the damage to the environment they cause) by the federal government in the name of ecology, climate change, global warming.


Electricity is a safe and reliable form of energy that is used every day to power equipment and appliances in our homes. Each year, however, hundreds of people die and thousands more are injured in accidents that could have been avoided. The following is a checklist of items that you can use throughout your home to help protect your family. 
Whole House
In overhead light fixtures and lamps, make sure light bulbs are the appropriate wattage.
Make sure portable heaters are stable and placed at least three feet from walls and other objects.
Cover all outlets with faceplates that fit snugly to walls.
If small children are present, install covers on all unused outlets.
Keep electrical cords away from foot traffic and make sure that they are not covered by rugs or furniture.
Do not use extension cords on a permanent basis. Install extra outlets or move the electrical devices closer to outlets.
Kitchen
Unplug countertop appliances when not in use.
Locate appliance cords where they will not come into contact with a heat source, such as the stove or range.
Make sure that all outlets in your kitchen are ground fault circuit interrupter (GFCI) protected outlets. GFCIs monitor the current flowing into circuits and shut it off if they sense an imbalance.
Bathrooms
Unplug all small appliances when not in use.
Never use plugged in devices, such as a radios or hair dryers, in or near the bathtub.
Install only GFCI outlets in the bathroom.
Bedrooms
Avoid drinking water or any other type of liquid when using an electric blanket or heating pad. Do not cover an electric blanket when in use.
Make sure electric blankets are in good condition; check for cracks or breaks may indicate damage.
Basement
Keep the electrical panel free from obstructions. Also, make sure that your hands and the floor are dry before touching the panel.
Install GFCIs in outlets located near clothes washers or wash tubs, or all over the basement if it is damp.
Outdoors
Install protective covers on all outlets and make sure that all outlets are protected by GFCIs.
Make sure power tools are in good condition and that wires are not cracked or frayed.
Store power tools indoors to keep them from being damaged by water or excessive heat.
Never use power tools or electrical devices near a pond or other wet location.
When working outdoors, only use weather resistant, heavy-gauge extension cords marked for outdoor use.
Power lines may be underground as well. Before digging, call 811 to have utility lines marked.
This list is for informational purposes only and is not meant to supersede any state or local building codes. Contact your state fire marshal or local building inspector for any information regarding code requirements in your area. Remember that common sense and good safety habits are the best protection against electrical hazards.
Fluorescent light bulbs contain a small amount of mercury sealed within the glass tubing. When a fluorescent bulb breaks in your home, some of this mercury is released as mercury vapor. The broken bulb can continue to release mercury vapor until it is cleaned up and removed from the residence. To minimize exposure to mercury vapor, EPA recommends that residents follow the cleanup and disposal steps described below.
This page presents only the most important steps to reduce exposure to mercury vapor from a broken bulb. View the detailed recommendations.
Before cleanup 

Have people and pets leave the room.
Air out the room for 5-10 minutes by opening a window or door to the outdoor environment. 
Shut off the central forced air heating/air-conditioning (H&AC) system, if you have one.
Collect materials needed to clean up broken bulb.
During cleanup

Be thorough in collecting broken glass and visible powder.
Place cleanup materials in a sealable container.
After cleanup

Promptly place all bulb debris and cleanup materials outdoors in a trash container or protected area until materials can be disposed of properly. Avoid leaving any bulb fragments or cleanup materials indoors.
For several hours, continue to air out the room where the bulb was broken and leave the H&AC system shut off.
Reposted from the EPA.GOV website
I don't know- these don't sound so
green
to me. I think, that as the state governments seek to ban incandescent bulbs because of their energy waste, that there should be a better alternative than poisoning the earth with mercury. Maybe they should shut off the lights in all the government office buildings after everyone goes home for the night. What do I know, I'm just the electrician



Using a ceiling fan in winter may seem counter-intuitive, but it's actually a very simple idea that can save you a lot of money on your heating bills.
HOW it works:
Everyone knows warm air rises and cool air sinks. The same principle is what makes hot air balloons fly. Ceiling fans are typically used in the summer to force cool air from the ground upward (by spinning counter-clockwise), helping to circulate the temperature throughout the room and creating a breeze. However, In the winter you can reverse the direction of your ceiling fan's motor (clockwise) to bring warm air down to the lower half of the room.
WHY it works:
Because hot air rises, most of the heat produced by your heater rises to the ceiling before it can even be felt. In a room with high ceilings, the top few feet of the room can get up to 20 degrees hotter than your thermostat setting - ultimately wasting a lot of energy.

Running a ceiling fan in reverse can bring all the hot air trapped near the ceiling back down toward the floor. This helps circulate warmth, and means your thermostat doesn't have to work as hard to heat the room.
Don't ceiling fans use energy too?
Yes, ceiling fans do use energy to operate, but not nearly as much as a conventional heating system. A fan with a 48" blade-span typically uses no more energy than a single 75 watt light bulb, so using a ceiling fan in conjunction with your central heating and cooling system is a simple and effective way to help conserve energy year-round.
ISLIP, NY (WCBS 880) - The light police are now watching over your bulbs on Long Island.
Islip is imposing new 'dark skies' rules, restricting outdoor lights on homes to no stronger than 100 watts and requiring businesses to turn off exterior lights within a half hour of closing.
Homeowner James Keaton thinks it all makes good financial sense.
"It's expensive now, you know," Keaton told WCBS 880 Long Island Bureau Chief Mike Xirinachs. "On that point of view, it might not be such a bad idea."
Supporters say the new light restrictions are healthier and will help us all to see the stars more clearly at night.
To that, George says, "People can't see the skies because your bills are too high."
At least seven other Long Island towns have imposed similar light restrictions.
What gives the Gov't any right to pass a law such as this? Is the Islip Town Gov't going to be held partially responsible for any crimes that occur because of this stupid law?